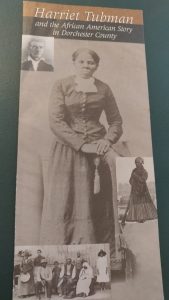 I decided I would extend Black History month one more day since this has been one of the worst Black History months ever in my opinion! Nearly 20 years ago in Dorchester County an effort began to embrace and promote our Black or African-American history, which also meant confronting much of the racism that had been plaguing the County for decades. Promoting hunting and fishing would have been much easier way to go for sure but I thought if we can't get past this pain… Cambridge will never amount to anything. It bothered me that any time Cambridge was referred to in the media it was prefaced by "where the race riots of the late 60's took place". I wanted to change that and it was going to take more than a clever slogan. Plus, I was certain that this painful past would someday be the key the Cambridge's future. Any successful tourism effort in Dorchester County was going to be inclusive. We invited the community to participate in a visioning workshop that opened with a Native American prayer about coming together around the beautiful place we all shared and a sunset over the Choptank River. I will never forget that moment. Then the work began.
The resistance started almost immediately. I had already become the target of a black council person who had a problem with all of my ambitions to promote Cambridge. My first week on the job this individual informed me in no uncertain terms that Cambridge did not need my help. Then there was the night I was invited to the Black Elks lodge on Pine street to discuss heritage tourism where I was basically ambushed. The people present were not at all happy with me for starting this effort. I was berated with questions like, Who do you think you are?… "what does a young white girl like you know about our experience?" My answer: Not a single thing. I cried my eyes out when I got to my car. This was going to be even more difficult than I thought, but I was determined. My efforts to be inclusive were not well received by several groups within the Black community, and yet encouraged by others. This was confusing but I kept moving forward. In addition to the heritage themed advertising (that one an award) we later received a grant to develop a tour. I enlisted some local experts to assist. This would be the first African-American heritage brochure that not only told the epic story of Harriet Tubman who grew up in Bucktown a rural area in Southern Dorchester County, but we would document and share sites for the first time that were significant in the Black community such as churches, schools and even the business district that was burned during the riots. While the brochure work illustrated the tremendous amount of history the county had to share, visitors continued to make pilgrimages to the rusty sign than stood on a desolate dirt road marking the childhood home of Harriet Tubman. It was long past time to honor her with a museum and efforts had begun to create a world-class center. I had witnessed people reaching down and clutching the dirt in their hands while paying their respects to the woman known as the Moses of Her People. Somewhere in the process an archeological dig needed to take place to more thoroughly research her connection to the land. I sure remember the day when I went to ask the wealthy white land owners if they would allow the research to take place. They said yes, but they were annoyingly amused. Today, thanks to many other hard working people, you can visit the Harriet Tubman Museum & Educational Center and pay your respects in a building worthy of the woman it honors.
Honestly, during those 8 years of working in my hometown I can't recall a single initiative where inclusiveness was not front and center. This was the only way forward. A group of us revived and coordinated this large festival called the Bay Country Festival and I served as President for a number of years. Our goal was to bring the community together and connect the past with the present. I decided that I was not only going to bring a big music act to Cambridge… I was going to bring a big black music act to Cambridge! The Commodores came to Groove City, oh yes they did! Not only were they one of my favorite groups, they had many fans of all colors!! The Councilperson I mentioned by the way, was serenaded to by the lead singer and it was a moment I will never forget, nor will she. People, black and white, were dancing, singing and so proud at that moment to be together in Cambridge.
I have been looking for that brave 25 year old girl. I need her more and more. She had the energy to do the hard work and she reminds me that doing the right thing is always worth the aggravation and the effort. I learned very early in my career that I was not black, would never be black and would probably never know what it's like to be black. I turn 50 this year and my quest to understand, and relate to all people of color is still a work in progress but sincere and more important than ever.